Hours
We are open Monday through Friday 8 am to 6 pm, We close on Thursdays at 5 pm. Dr's hours are by appointment. Pictured above: Dr. Crowe runs with the big dogs.
Like Family
We are here for the life of your pet...because we care. We are here for you and your family from the pitter patter of puppy and kitten paws to the tromping steps of the healthy adult fur-baby to the slowing down of your aging senior. We consider you part of our Creekside family and hope you come to think of Creekside as part of yours.
Location
We are in Goose Creek, next to Big Lots in the Crowfield Village Shopping Center at 431 St. James Avenue.
Testimonials
Dr Crowe has been my vet of choice since she was at Dr. Samuel Seashole's practice in Moncks Corner. Creekside is close to my home and easy to get to.

Joan M., Moncks Corner, SC
Initially, I chose Creekside because of the location. At the time they were practically in my backyard. But the staff and the people kept me coming back even after I moved farther away.

Sam R., Goose Creek, SC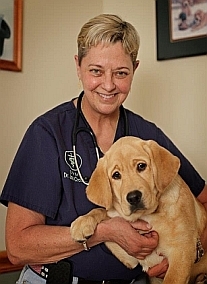 Dr. Jan Sallas Crowe is the owner of Creekside and our primary doctor with over 30 years experience as a veterinarian. Dr. Crowe obtained her Doctorate Of Veterinary Medicine degree from Tuskegee University in 1984 and has been in practice ever since.. She worked in upstate SC as a young doctor and later spent quite a few years with Dr. Sam Seashole in Moncks Corner. In 1998, she decided she wanted to open her own clinic in Goose Creek, Creekside Veterinary Clinic, PA. She opened the clinic at its present day location and has been there since.
Dr. Crowe's mission is to be there for the life of your pet...because she cares, which in her words breaks down into providing high quality medical care to your pets and companion animals throughout their lifetimes... For many of her patients she has been there at the beginning, at the end and every step and stage in between. That's one reason so many of our clients are like our family and we hope you feel that way about us, too.
She lives in Goose Creek and is the proud parent of two Dobermans, Stormy and Michaela. Her beloved chocolate Chihuahua, Stimpy, was with her for all of her 16 Chihuahua years.
---
Dr. Irene Woodward brings to Creekside nearly 20 years of experience as a doctor of veterinary medicine. She was born and reared in Cleveland, Ohio. She graduated from The Ohio State University in 1996 with a degree in Veterinary Medicine. She has practiced in Connecticut and Pennsylvania until moving to Charleston in 2013, realizing her dream of over thirty years to live in the Low Country. Dr Irene lives in her newly built home with her two cats, Ping and Pounce. Her little dog, Gracie, watches over all of them from heaven.
She is thrilled to settle in the Charleston/Goose Creek area and will now call Creekside "home" as well. She loves the history, food and culture of the Charleston area and in her free time she enjoys beach combing, gardening, dancing, sewing, making jewelry and reading.
---
Amanda our LVT has been in veterinary medicine for over 13 years and those have been right here at Creekside. She has been with us since she was going to school to become a Vet Tech. She started many years ago at Creekside as a veterinary assistant in training and she has made her career with us.
She enjoys spending time with family and friends, being outside by the pool or at the beach, watching movies and reading. Amanda is Mommy to Christopher.
---
Deidra has been a veterinary assistant for 15 years. She has a variety of pets of her own including her dogs: Gemma, Bo and Shayla. She also has her cats: Kitten, Tink, Simon and Brat. AND she has horses: Jasper, Honey and Shy. In her spare time, Deidre likes to spend time with her two boys & pets and she enjoys riding her beautiful horses.
---
Bobby, our Volunteer, has been working around animals for almost 30 years. He lives in Summerville with his beautiful wife and 14 (count 'em, yes, FOURTEEN) four-legged babies! All the doggies and kitties coming into Creekside love Bobby (well, we all do!) He has very little spare time because he's always volunteering. Once in a while when he gets some down time and then he enjoys riding his Harley, fishing, or watching an old "who done it" movie. Bobby can be best described as a true southern gentleman with just a touch of bad boy!
Judy brings with her 30 years experience in administrative and office management. You may recognize her or know her from her many years as station manager and news director of WTMA 1250AM. Judy is on the front desk of Creekside and keeps the doctors schedules and office operations running smoothly. In her spare time, she enjoys reading, travelling and dining with friends.
---